DeBoer Transportation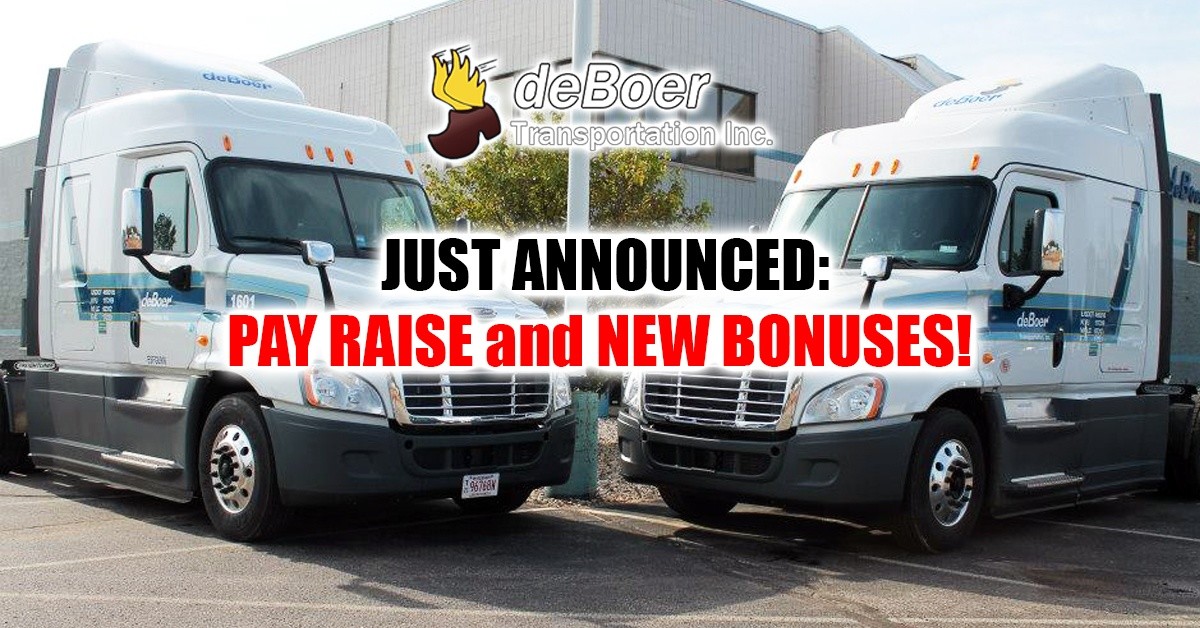 Truck Driving Jobs at DeBoer Transportation
This company's jobs will be updated shortly...
Requirements
Driver Type(s)
Company Driver
Owner Operator
Student Driver
Team Drivers
Benefits
Health Insurance
Vision Insurance
Dental Insurance
Life Insurance
Retirement Plan
Paid Vacation
Paid Weekly
Layover Pay
Pickup/Drop Pay
Per Diem
Paid Fuel Surcharge
Direct Deposit
Company Overview
deBoer Transportation
800-825-8511
Over Four Decades of Exceptional Service
deBoer Transportation, Inc. is a full service, asset-based transportation and logistics provider.
"We begin and end with safety in mind and we listen to our customer's supply chain needs before offering a solution. Our team of dedicated professionals takes personal ownership to deliver sustained operations excellence. Our goal is to create in our customers a conviction that we are a key component to their growth strategy."
History
deBoer Trucking began operations in 1967 as a small family run cattle hauler in rural Blenker, Wisconsin.
A rapid evolution began with industry deregulation migrating from cattle to paper serving Wisconsin to the Southern and Western markets.
In 1993 deBoer purchased North American Freight Service an Intrastate Texas carrier.
Success led to the development of a strong regional southwestern business base and an international presence for cross border Mexico service.
In the late 90's COFC and TOFC services were added.
In 2003, deBoer Transportation, Inc. was formed to expand the range of services to include a company fleet, owner operator division and brokerage services.
In 2007 various logistics services were developed for specific customers.
Today deBoer Transportation, Inc. is a full service "Smartway Carrier" and operates with 400 tractors and 1200 trailers to service its' customers throughout the U.S. and Mexico. Our goals are controlled and strategic growth, superior customer service, and providing a rewarding and stable work environment for its employees.
Call or Apply Today for More Information!
Contact Info
DeBoer Transportation
8814 County Road F
Blenker, WI 54415
Phone Number
Recruiting : 844-346-3097
Connect with DeBoer Transportation