Dart Transit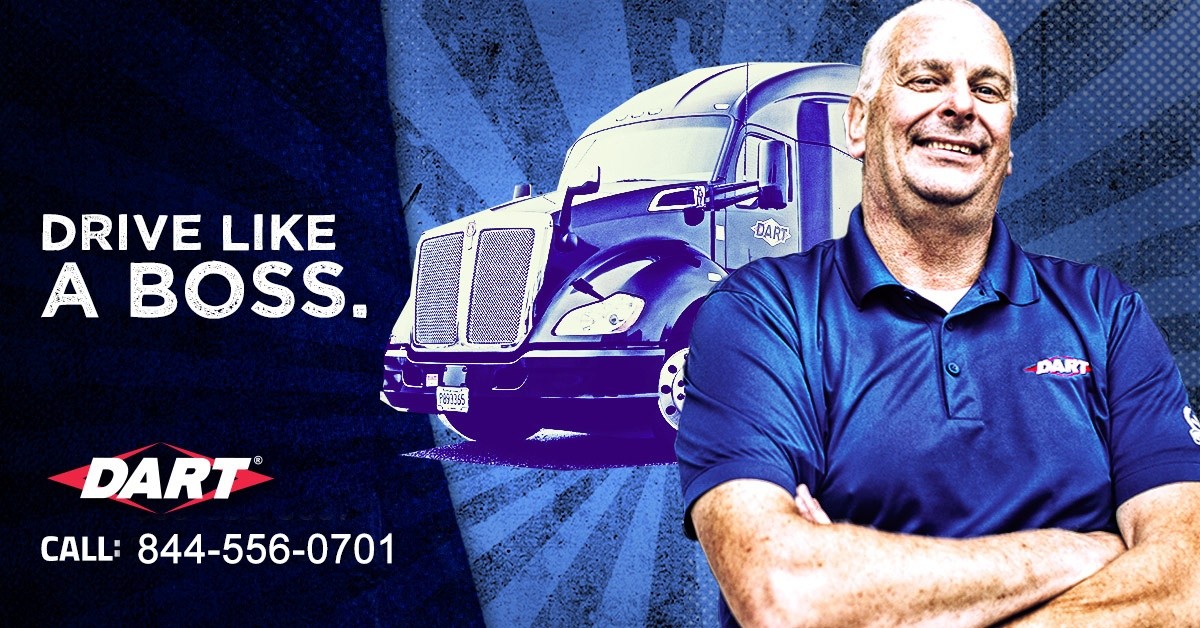 Truck Driving Jobs at Dart Transit
Requirements
Driver Type(s)
Company Driver
Owner Operator
Benefits
Health Insurance
Vision Insurance
Dental Insurance
Life Insurance
Paid Vacation
Company Overview
Dart Transit
(844) 556-0701
Dart Transit has a reputation as America's top trucking company for independent contractors. You can contract with Dart with confidence, knowing that it is a company that operates with integrity and professionalism. The Truckload Carriers Association (TCA) and Carriers Edge identified trucking companies with the strongest over-all programs for drivers and owner operators, and ranked Dart among the best carriers for professional drivers. Dart topped the field in 2010 as the Best Fleet for Owner Operators, and won "Best Fleets to Drive For" in 2009, 2010 and again in 2011.
According to the TCA, the strength of Dart's contractor support programs encourages owner operator success – something we have known for years.
It starts with offering contract choices that allow you to pick an owner operator driving option that meets your individual needs.
• Over-the-Road -- for biggest choice of loads and strong miles
• Northern Region -- in America's Heartland
• Super South Region -- operating between Texas and the Atlantic seaboard
• Dedicated – pre-planned loads for very high productivity
• Short Haul in 16 metro areas. Many offer home every night
Financial advantages include same-day settlements (settle on your schedule, not ours), very competitive mileage and percentage pay rates and big savings through participating vendors. Savings include rich fuel discounts from every major truck stop chain, the trucking industry's best truck lease purchase program, discounts on tires and truck repairs, a full range of insurance offerings, plus access to a SEP-IRA retirement program.
Dart has been a great place for independent contractors since 1934 because we've designed our company to meet their business needs. Whether you've been an owner operator for years or are hoping to become one now, Dart is a great trucking company for you.
Contact Info
Dart Transit
800 Lone Oak Road
Eagan, MN 55121
Phone Number
Recruiting : 844-556-0701
Connect with Dart Transit
Videos
Dart Owner Operator Leanne